Our Team
Cheetah-Adventures team: Determined to make you experience the best of Iran
Ali Mesbahi
Co-Founder & CEO
Alongside his professional career path, Ali always dedicates a considerable amount of his time to learning and gaining experiences by traveling, being an adventure seeker, and surely a big fan of nature.
Ali has studied an MBA in the finest business school of the country, Sharif University of Technology. He studied hard as a student and also never stopped professional training which was mainly focused on mountain-related activities.
By 2011, while only 19 years of age, he successfully climbed Mount Khan Tengri (7010m) and was honored with a nomination as the world's youngest summiteer of this mighty peak in Kazakhstan. Furthermore, successfully climbing Mount Damavand (5610 m) counted 65 times, being a rock and ice climbing certified coach and having received the symbolic ice-axe award twice for the best Iranian ascent of the year are only a few of the things he has under his belt.
Ali Believes that creating unforgettable experiences for travelers is the key to achieving a robust, sustainable, and thriving travel agency that can be one of the leaders of the market for years and regards it a lovely thing to do. He believes that those who succeed are only the ones that love what they do.
After success in starting and developing Alibabatrek, where he used to be the COO, now he is determined to bring his best performance, after almost 15 years of experience in adventures, to Cheetah Adventures.
Cheetah Adventures
Hosein Ghazanfari
Co-Founder & CMO
As an IT engineer and specialist and an expert in Digital Marketing, Hossein loves technology and science. He became extremely interested in modern technologies as a teenager and also started doing sports such as gymnastics, aikido, Kyokushin karate, and hiking.
Hossein loves his country, Iran, and its endless beauties a great deal. He is determined to create an opportunity for those who travel to Iran to gain unique, authentic, and unforgettable experiences with Cheetah-Adventures. Using more than 12 years of his experience in Business Development & Marketing to start the Cheetah-Adventures, an Iranian travel agency, he aspires to help those who travel to Iran and introduce them to the beauties and culture of Iran.
Cheetah Adventures
Mehrdad Zamanian
Mountaineering Expert, Tour Guide & Tourism Consultant
Mehrdad discovered his interest in sports as a teenager and started doing different sports such as wrestling, Kung-Fu, and Soccer(Football). After finding success in wrestling and coming 4th in inter-school tournaments, he discovered his love for nature and started mountain climbing as an amateur. Later on, he participated in special classes held by the Iran Mountaineering and Sport Climbing Federation and managed to become a certified international tour guide, mountain climbing, snow, and ice climbing coach. Mehrdad has multiple ascents of the prominent mountains in the Alborz and Zagros mountain ranges during different seasons, he also climbed several routes of the Alam Kuh Big Wall along with other impressive conquests on his mountain climbing resume.
Besides being an adventure expert today, Mehrdad is one of the best and most successful professional Damavand mountain guides. During summer 2019, He successfully led 15 Damavand trekking tours with groups of 1 to 25 people to Damavand Summit.
In addition to his expertise in mountain climbing, Mehrdad is an IT engineer. He is also interested in traditional Persian music and plays Tar in his leisure time. Also as a serious environmentalist, he considers preserving the environment to be his greatest concern.
Cheetah Adventures
Ghazal Eftekharian
Content Writer & Tour Guide
Ever since she was a child, Ghazal has been interested in learning foreign languages. She believes it opens the door to learning about different cultures and meeting new people. Her path to becoming a multilingual translator started at the age of 7 by learning English. She is now fluent and skilled in English, Spanish, and German in addition to her mother tongue, Persian. At the age of 18, she completed an ESL Teacher Training Course with the maximum score and started working as an English teacher and translator.
Ghazal takes pleasure in traveling, reading, watching movies, and learning new things. She believes traveling and discovering new cultures brings people together beyond politics, racial discrimination, and personal differences. To take part in making this happen, she has devoted her skills in translating, generating, and narrating contents to introduce the world to the beauties of Iran, its rich culture, and history.
Cheetah Adventures
Marzi Noveiri
Social Media Manager
Marzi started her journey to be an artist as a child. She started taking calligraphy and painting classes at a young age and also became interested in sports and took karate lessons. Later on, she discovered her interest in programming; therefore, she majored in computer engineering and joined the best robotics team in the country. However, she decided to follow another path and realized she didn't want to continue programming. Marzi found her passion for photography, art, and writing and ambitiously pursued them after she graduated from university.
Today, she is a talented photographer and a creative painter and digital artist. She is also a blogger on Instagram. She has brought her unique taste, creativity, and skills in working with Photoshop and Lightroom to Cheetah-Adventures, where she handles the graphics. Marzi is also deeply fond of traveling, music, and books and is eager to show the amazing Iranian literature, architecture, and culture to the world.
Cheetah Adventures
Nastaran Fatemisadr
Tour Guide
Nastaran is an economics graduate from Shahid Beheshti University, one of the best universities in Iran. She has been working as a professional tour guide for the last few years and has the official tour guide certificate that she has earned by successfully completing several courses on tourism. Her family are also experts in the tourism industry; however, this is not the only reason she has chosen the job and excels at it. As an energetic and informative tour guide, Nastaran loves to travel, learn about the tourist attractions in Iran and share her knowledge with anyone who loves traveling. She has been reading on the history of Iran for several years and now has a thorough knowledge of the matter that helps her as a tour guide. She also gathers new information on every trip. Nastaran is very passionate about her job. She makes it her goal to provide travelers with information on the history and culture of Iran, show them the beauties that this country possesses and give them unforgettable experiences.
Nastaran is an ambitious environmentalist trying to raise awareness on the true value of the environment and is looking to play a role in worldwide endeavors to reduce pollution as well. Nastaran believes that the earth belongs to animals and plants as well as humans and considers it the responsibility of mankind to improve their living conditions. Nastaran is energetic, sociable and curious. She is always seeking new experiences and wants to meet new people from all around the world. She is fluent in English, Spanish and Turkish and wants to learn other languages as well. Nastaran spends her leisure time reading, playing the piano and cycling which is her favorite sport. She hopes to travel around the world and publish a book about her travel experiences.
Cheetah Adventures
About Cheetah Adventures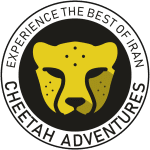 Cheetah-Adventures is an Iranian Tour & Travel Agency aiming to provide services for travelers from around the globe. Cheetah-Adventures is named after Iranian Cheetah, a Critically Endangered cheetah subspecies surviving today only in Iran.