Choosing your next travel destination can be a difficult decision. It becomes even harder when you're traveling with children.
There are always many factors that should be considered when choosing a travel destination suitable for families. These factors include safety, the behavior of the locals, entertainment, etc.
Based on traveler reviews, Iran is a suitable destination for a family trip. A family trip to Iran can be enjoyable and fulfilling for both children and their parents.
As a country with interesting culture and history and mesmerizing natural attractions, Iran has something to offer for every member of the family. Children can learn about history, culture and art, have exciting adventures in nature and taste the delicious Iranian dishes, snacks, drinks and fruits in this amazing country.
Iran also has one of the youngest populations in the world and is famous for its hospitable people. Therefore, the majority of locals are friendly towards children, treat them with kindness and respect their sense of curiosity and their high energy.
Moreover, Iran is a safe travel destination, even much safer than most popular tourist destinations, according to travelers. You can learn more about safely traveling to Iran on our Iran safety page.
7 things to know  before visiting Iran with family
There are a few points that families traveling to Iran should keep in mind:
Children require Iran visa as well
Everyone planning to travel to Iran requires an Iran tourist visa and travel insurance. This rule applies to children of any age as well. Therefore, travelers should make sure they apply for an Iran visa for their children as well. Check out our Iran Visa page for more information.
Bring the necessary prescription drugs
It's recommended to bring enough doses of prescription drugs that children need to take. Although most types of medicine can be found in drugstores, it's best not to take the risk of having to compensate with a similar medicine.
Diapers, cereals, baby milk, and other items you might need can be found at drugstores and supermarkets.
Eat at well-known restaurants
Restaurants in Iran normally meet the standards of health protocol and food poisoning rarely occurs. However, it's best to avoid eating at roadside restaurants and stick to famous ones.
Wear masks at major cities
Air pollution can be an issue in major cities such as Tehran and Isfahan. Therefore, it's recommended for children, the elders, and those with heart or respiratory diseases to wear masks when air pollution is at the warning level.
Teach your children to use squat toilets
Even though there is at least one European toilet at shopping centers, hotels, and most restaurants, it's best to teach your children how to use Iranian squat toilets in case there aren't any normal ones available.
Girls older than 14 must wear Hijab
Women and Men have to follow a certain dress code in public areas in Iran. This dress code requires women to wear long-sleeved coats or tunics that cover their lower waste and pants, skirts, or dresses that are long enough to cover the legs until above the ankles. Women also have to cover their hair. Iran dress code also obligates men to avoid wearing sleeveless shirts and shorts. However, this dress code only needs to be followed by people above 14-15 years old and it's less strict for travelers. You can find a complete guide on what you can wear in Iran on our Iran dress code page.
Choose a suitable Iran tour
Iran is a vast and diverse land and has plenty of different attractions for any taste. However, it's best to choose an Iran cultural tour or Iran skiing tour rather than an Iran trekking tour if you're traveling with children as the level of physical activity of these Iran tours is rather low.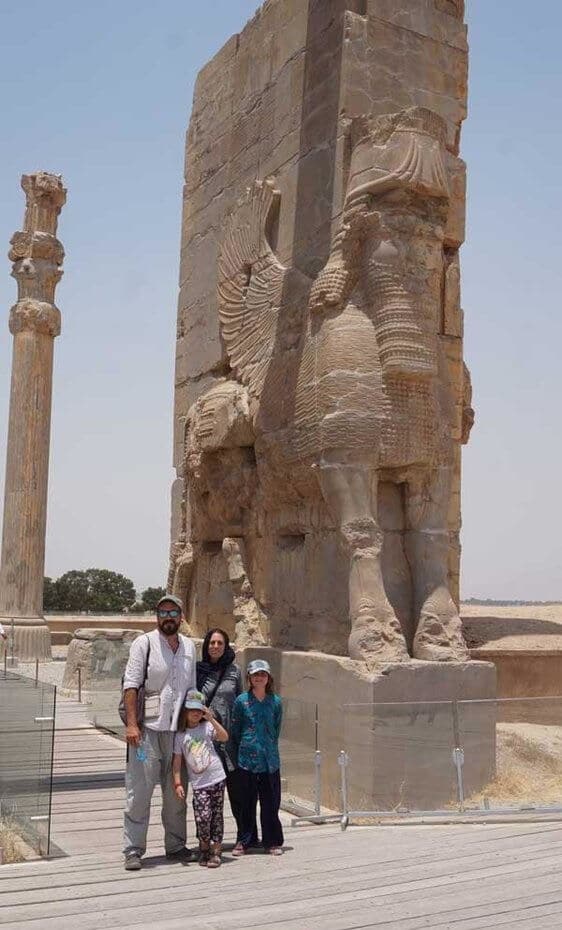 You can learn more about Iran in our Iran Travel Blog or our Iran Destinations & Attractions Page.