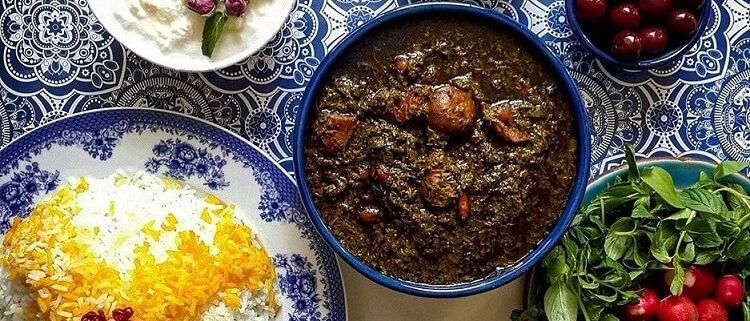 Iranian cuisine is one of the richest and most diverse in the world. Luscious Iranian dishes usually consist of beans, vegetables, aromatic herbs, and meat; however, the ingredients vary from region to region. Even though many Iranian traditional dishes include meat, there are many delicious vegetarian options as well. Many travelers believe tasting Iranian dishes has been one of the highlights of their Iran trip and consider it essential when traveling to Iran. Even if you're not a fan of food tourism, tasting some of the most delicious Iranian dishes can make your Iran tour more interesting and allow you a closer look into the Persian cuisine as part of the Persian culture. Don't restrict yourself to fast food, kebab, or one dish that you tried and liked and let your curiosity lead the culinary aspect of your journey through Iran.
Here are 16 delicious Iranian dishes you must taste:
1-Abgoosht (Dizi)
Abgoosht(Dizi|) is one of the most popular and original Iranian traditional dishes. This tasty dish takes hours to prepare and is rich in nutrients. Abgoosht is prepared by boiling meat, beans, and potatoes for a long time. It's served with Sangak (a type of Iranian bread), onions, herbs, Torshi, and Doogh. Many Iranians still have Abgoosht for lunch on Fridays (Iranian weekend), following the traditional way. Abgoosht is the traditional Iranian dish that every traveler must try before being able to say they've tasted Iranian food. 
2-Ash (Iranian soup)
Ash is the name given to traditional Iranian soups; however, it's very different from the soup. It is denser than normal soup and usually contains herbs and beans. Unlike soup, Ash is considered a main dish rather than an appetizer as it is a rather heavy meal. In addition, Ash is an original Iranian dish; however, it has become popular in other countries as well. Ash is one of the most famous Iranian dishes and is a dish every traveler must try. There are many different types of Ash in Iran and every region has its special local Ash. Some of the most famous types of Iranian ash are Ash Reshteh, Ash-e Doogh, Ash-e Shole Ghalamkar.
3-Jujeh Kabab (chicken kebab)
Jujeh kabab is one of the most popular Persian Kebabs. It is made of chicken breasts, wings and thighs flavored with saffron, spices, and lemon juice and then grilled on a coal fire. Jujeh Kabab is usually eaten with grilled tomatoes and rice, making a delicious combination. It's a tradition to make Jujeh kabab when going on picnics thus there are special places for lighting fire in most parks in Iran. This popular Persian kebab can be found at almost every restaurant in Iran. 
4-Koobideh
Koobideh is the most famous Iranian kebab. This tasty kebab is made of veal mixed with unions and sometimes herbs. Koobideh is eaten with rice or sometimes bread and is served with fresh herbs, yogurt, salad, olives, etc. This simple but delicious Kebab finds its way to the heart of everyone who tastes it. Koobideh is one of the most popular among Iranians and travelers and can be found at most restaurants in Iran. 
5-Mirza Ghasemi
Mirza Ghasemi is an Iranian vegetarian dish originally from the north of the country. This delicious dish is comprised of chopped garlic, fried eggplants, and tomatoes and is served with bread or rice.  The combination of eggplants and garlic creates a unique taste that most travelers love. Mirza Ghasemi can also be eaten as an appetizer. 
6-Ghormeh Sabzi
Ghormeh Sabzi is most Iranian's favorite dish. It's cooked at least once a week in most Iranian homes and is inseparable from the menu of restaurants. This appetizing stew contains aromatic herbs, kidney beans (pinto beans in some regions), onions, dried lemon and chopped mutton, veal, or lamb. The secret to cooking a delicious Ghormeh Sabzi is cooking it slowly and on low flame. Ghormeh Sabzi is eaten with normal or saffron rice and is a must-taste for travelers. 
7-Fesenjan
Fesenjan is considered the fancy Iranian stew and is often served at parties and weddings. This luscious stew can be sour or sweet depending on the region and contains walnuts, pomegranate paste, and chicken or meatballs. Fesenjan has to be cooked on low flame for hours to get ready and the longer it's cooked the more delicious it gets. Fesenjan is one of the most popular stews among Iranians.
8-Baghali Polo
Baghali Polo is another one of the fancy Iranian dishes, especially when served with meat. This luscious rice dish is very popular among Iranians and travelers and is served at most restaurants, parties, and events. Baghali polo is a mixture of Persian steamed rice with broad beans and saffron and is served with chicken or mutton. 
9-Tahchin
Tahchin is one of the most delicious Iranian rice dishes. Tahchin is also called Iranian cake due to its cake-like shape. This luscious dish is comprised of a lump of rice mixed with yogurt and saffron that has layers of chicken or meat inside. Tahchin is one of the richest and most delicious types of Iranian mixed rice and is often eaten for lunch.
10-ِDolmeh Barg-e Mo, Dolme (Dolma)
Dolma is a type of a wrap or stuffed vegetable originally from East Azerbaijan and West Azerbaijan provinces in Iran. This popular Iranian dish is prepared by stuffing vegetables with precooked minced meat, rice, tomato paste, split peas, and other ingredients and coiling them. There are several types of Dolma found in Iran such as Dolme Kalam (cabbage Dolma), bell pepper Dolma, tomato Dolma, potato Dolma, eggplant dolma and grape leaves (barg-e mo) Dolma. Grape leaves Dolma is the most popular type of Persian Dolma and is mostly prepared with fresh grape leaves during spring and frozen for later.
11-Gheimeh
Gheimeh is one of the most delicious and most popular Iranian stews. It is often cooked all over Iran and can be found in almost every restaurant. The main ingredients of Gheimeh are meat, onions, split peas, tomato paste, and dried lime. These ingredients are first cooked for a while and then French fries or fried eggplants are added to the stew.
12-Loobia Polo
Loobia polo is one of the most popular Iranian rice dishes. It's a type of steamed rice mixed with a pre-cooked mixture of chopped green beans, meat, onions, and tomato paste. The delicious Loobia Polo is often served with Shirazi Salad, yogurt, and fresh herbs. In addition, the scorched rice (Tahdig) made from Loobia polo is very delicious and popular among Iranians. 
13-Baghali Ghatogh
Baghali Ghatogh is one of the most delicious Iranian vegetarian dishes. This tasty stew is originally from the north of Iran but it's also popular in other regions. The main ingredients of Baghali Ghatogh are broad beans, dill, eggs, and garlic. 
14-Bademjan stew
Eggplants are one of the main ingredients of many Iranian dishes, especially dishes originating from the north of Iran. Bademjan (eggplants) stew is one of the most delicious Iranian dishes containing eggplants and is very popular. This Iranian stew contains eggplants, meat and onions, and different spices and raw grapes are added for the flavor. Bademjan stew can also be cooked with mushrooms instead of meat for vegetarians.
15-Kufteh Tabrizi
The appetizing Kufteh Tabrizi is a special type of Iranian meatball originally from Tabriz. This delicious meal is a large meatball made out of meat, split peas, and herbs with a boiled egg, walnuts, barberries, and plums in the middle. Kufteh Tabrizi is often served with bread or rice.
16-Ghalieh Mahi
Ghalieh Mahi is a special Iranian dish local to the southern part of Iran. This appetizing stew has a unique taste and has recently become popular in other parts of Iran. Ghalieh Mahi stew contains fish, onions, garlic, sour tamarind and herbs such as coriander and fenugreek. If you're traveling to one of the cities in the southern part of Iran this tasty stew is one of the things you can't miss.
https://cheetah-adventures.com/wp-content/uploads/2020/04/Ghormeh-Sabzi-Iranian-dishes-Iran-Culture.jpg
480
750
Hosein Ghazanfari
https://cheetah-adventures.com/wp-content/uploads/2020/05/cheetah-adventures-final-02-white-background-150.png
Hosein Ghazanfari
2020-05-11 11:40:39
2020-10-10 14:20:19
16 essential Iranian dishes