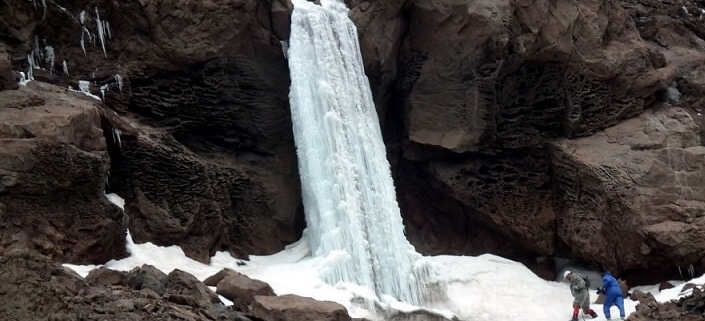 Yakhi Waterfall/Icefall( Abshar Yakhi) is a waterfall located on the southern ridge of Mount Damavand at approximately 5100m of elevation. This beautiful waterfall is one of the most famous emblems of the southern ridge of Damavand Mountain and there are few mountain climbers that have never heard of it.
Damavand Frozen Icefall: Yakhi Waterfall (Abshar Yakhi)
Located at a high altitude of 5100 m, Yakhi waterfall is the highest located waterfall in the Middle East and certainly one of the most interesting. Abshar Yakhi is the third most famous natural attraction on the southern ridge of Damavand after the sulfuric hills and the sulfuric gas-emitting hole near the Damavand summit.
Mountain climbers choosing to conquer Mount Damavand by Damavand southern ridge use this waterfall as a sign indicating that they've passed 5000 m of elevation. Besides, mountain climbers usually trek up to a point close to Yakhi waterfall (where it's clearly visible) the day before their summit day to acclimatize better.
It's not recommended to get close to the waterfall as the path leading up to it is separated from the main route on the southern ridge and is very steep and often covered by snow and ice. Also, the route leading up to Damavand summit from Abshar Yakhi is difficult. This magnificent waterfall can create a great photography setting from a distance (200 m). Based on the measurements done by professional mountain guides, Abshar Yakhi is between 10 to 15 m tall and is frozen for most of the year. On the hot summer days, the temperature reaches above zero around noon and narrow current of water can be seen; however, as the temperature drops again around 4 o'clock Yakhi waterfall gets completely frozen again. High altitude and lack of sunlight are the main reasons for it being frozen. Yakhi waterfall is partly supplied by a hole on top of it that is filled with snow.
Cheetah-Adventures provides variety of services to everyone who wants to climb Damavand, please check out our Damavand Tour page or see Mount Damavand page for complete information regarding Damavand. our Iran Travel Blog is also a good place to find Damavand related articles.
https://cheetah-adventures.com/wp-content/uploads/2020/05/Abshar-Yakhi-Damavand-mount-damavand-mountain-trekking-tour-3.jpg
491
705
Mehrdad Zaman
https://cheetah-adventures.com/wp-content/uploads/2020/05/cheetah-adventures-final-02-white-background-150.png
Mehrdad Zaman
2020-06-27 18:27:00
2020-09-13 12:57:49
Damavand Frozen Waterfall