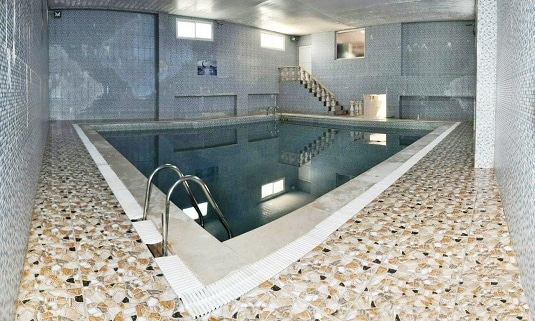 Damavand Hot Water Springs
Mount Damavand (5610 m) is the most prominent peak in Iran and the Middle East and also a potentially active volcano. Several natural hot springs can be found in the area as a result of Damavand volcanic activities.
A hot water spring is a spring with water's temperature higher than its surroundings. Hot water springs usually contain minerals and several types of salts as they originate from the depths of the earth.
The water reaches the surface with a lot of pressure because of the gases dissolved in it. Due to the special geological features of the foothills of the Alborz mountain range, many hot springs can be found in the area around Mount Damavand. Each of these Damavand hot water springs has special healing effects.
Larijan village
The southernmost region in Alborz province is in the vicinity of Larijan village. This region is full of rivers and springs and is known for its natural hot springs. Even though hot springs can be found all over Iran, they are mostly concentrated in the areas near the foothills of Alborz and Zagros.
Larijan village is famous for its various hot springs and proximity to Mount Damavand, the most prominent peak in Iran. Mount Damavand is located southwest of  Larijan village which is located 60 km northeast of Tehran and 26 km northeast of Damavand.
Sarein is the second most famous village in Iran turned into a popular destination for its hot springs. This village is located at the foothills of Mount Sabalan, the third highest peak in Iran.
Larijan hot spring
The hot springs in Larijan village have made it the most popular village in the area and a famous tourist destination. Water flows from the ground into Larijan hot springs at a rate of 1000 liters/min and with a temperature of 65 to 70 Celsius degrees.
The unpleasant scent of the water that resembles the smell of rotten eggs is due to the hydrogen sulfide it contains. The hot spring water also contains magnesium bicarbonate and several other minerals; however, it's still crystal clear. Larijan hot springs have many healing effects and are beneficial for skin conditions, scars, respiratory diseases, rheumatism, and neurological disorders.
Most of the inhabitants of Larijab village have led a branch of the flow to their basement and filled small pools that they rent out to visitors. You'll see people advertising the hot water pool in their home as soon as you enter the village. Most of these pools are no bigger than a hot tub and have a capacity of 4-5 people; however, there are bigger pools suitable for bigger groups.
Ab-e-Ask and Esterabkooh are two of the most famous Larijan hot springs.
Damavand Thermal Spring: a relief after mountain climbing
Most mountain climbers choose hot water springs after climbing Mount Damavand to relax and enjoy the water. Damavand summit day can be a very exhausting day as well as an exciting one; therefore, spending an hour in a hot spring can reduce spasms and help you relax. Afterward, you'll have the delicious Larijan lamb kebab and get a good night's sleep to regain your energy.
https://cheetah-adventures.com/wp-content/uploads/2020/05/Damavand-Hot-water-springs-mount-damavand-mountain-trekking-tour-5.jpg
350
535
Mehrdad Zaman
https://cheetah-adventures.com/wp-content/uploads/2020/05/cheetah-adventures-final-02-white-background-150.png
Mehrdad Zaman
2020-10-09 21:00:46
2023-10-20 10:54:48
Damavand Hot water spring